Our History
In November 1954, a small group of aspiring actors met at the home of Libby Bowers to start a community theatre in Chambersburg. They opened with a one-show season, producing "The Male Animal".
Since that simple beginning, a lot has happened in Chambersburg Community Theatre. We incorporated in 1960, gained non-profit status in 1974 and appeared in at least five different auditoriums. After moving from Central Jr. High School to the Rosedale Theatre, to Faust Jr. High School and back to Central, then to the Capitol Theatre, and then to Wilson College, we are very happy to have settled back into the Capitol Theatre for the past 30 years.
We've produced dramas – Shadowlands, The Diary of Anne Frank, Our Town, The Robe, Death of A Salesman & The Glass Menagerie – musicals – Cinderella, Annie, The Wizard of Oz, The Sound of Music, The Secret Garden and all of the Nunsense series – mysteries – The Mousetrap, Victoria's House, Death Trap – and comedies Arsenic & Old Lace, The Odd Couple, Rumors, The Best Christmas Pageant Ever & A Christmas Story; we've produced popular plays and originals by local playwrights – Laughter From The Porch and Dad Burn It.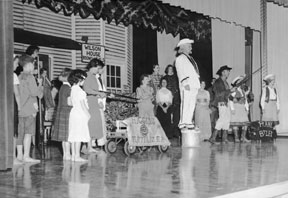 Support Your Local Community Theatre
We depend on the generosity and interest of our beloved community. We are a nonprofit, all-volunteer organization, meaning we rely on donations and sponsorships to keep doing what we love.